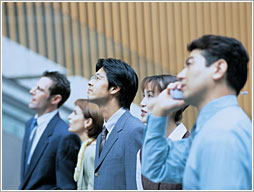 Being a "human oriented" company, HJ MAGNET will provide its staff a perfect working and learning environment. We pledge to make HJ MAGNET an innovative and factualistic company!

Give an objective assessment to everyone according to their contribution and achievement; enable our staff to achieve continuous self-improvement.

HJ MAGNET will provide everyone a promising future!

Perfect our internal training system. Make training plan according to the characteriatics of the trainee, thus make a high-quality staff.

Perfect our internal ^title system ̄, thus enable the staff to improve their professional skill continuously.

Make a perfect salary and welfware system. And the income of the staff in HJ MAGNET is very competitive.

Make a tutorial system for the newly-graduated-college-student. Provide them a learning environment and help them to complete their schooling.

We pledge to provide a good environment for the development of our man to perfect their skill and self-quality.